Guest Access to MyUI
What is a Guest Account?
No third party may access MyUI student information except through a guest account.
Students can provide view-only access to the following pages for any guest(s) they trust:
Class Schedule
Grades
Financial Aid
Admission Profile
Tuition/Fees and University Bill
The student may grant viewing rights to one or more of these five categories and restrict others. It is not possible to restrict access to one item in a category but not the other (for example, give view rights to Tuition/Fees but restrict University Bill).
To create a guest account, the student must do the following:
Log in to MyUI
Click "Student Information" from the main menu and under the "My UIowa" heading click "My Guest Accounts"
Click "Invite New Guest Account"
Select and assign viewing rights you want for your guest--different guests can have different viewing rights
Click the button to send the invitation
The following image shows the screen to set up a new guest account.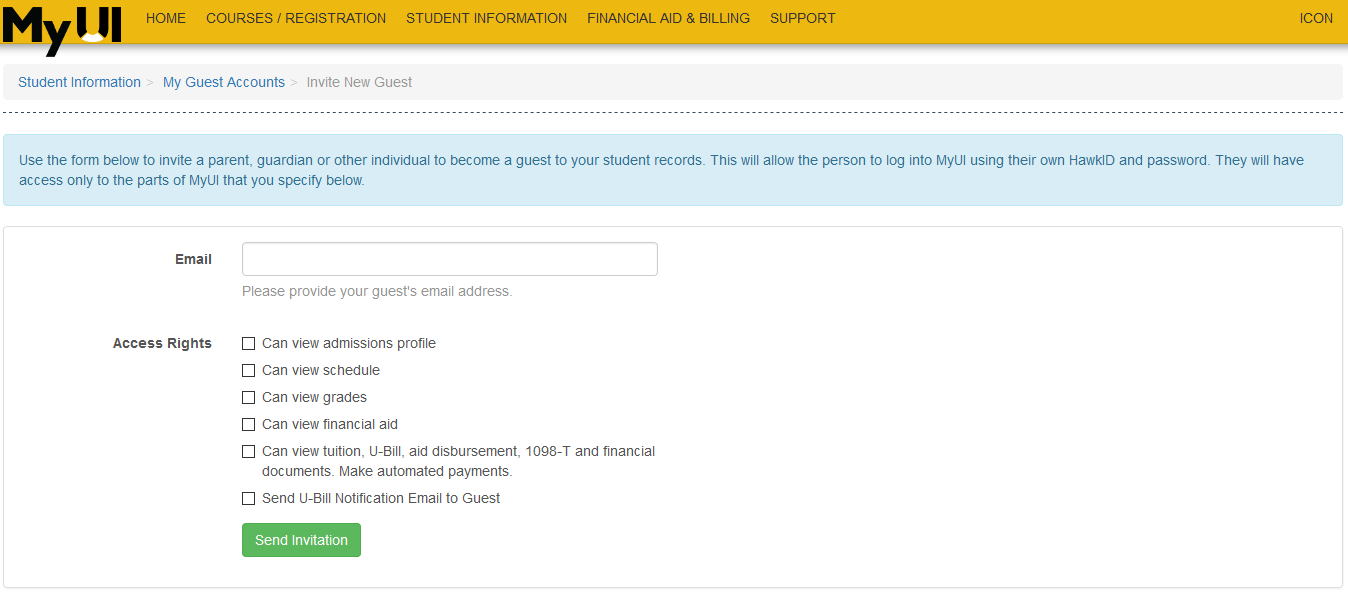 Important Information for Students about Guest Accounts
When you have created at least one guest account, MyUI will provide you with a screen to manage your guest accounts when you click "My Guest Accounts"
Guest accounts can be updated at any time if you want to change viewing rights
Only YOU the STUDENT can update, change, or delete your guest accounts; no other University official can manage or change your guest accounts
Academic Record Consent Form
The ability to view information in MyUI through a guest account does not constitute a waiver of FERPA (Federal Educational Rights and Privacy Act) restrictions.
Guest users may not be allowed to discuss information viewed through a guest account with a University official without a waiver of FERPA confidentiality restrictions by the UI student who has set up your guest account via the "Academic Record Consent Form." The student must create a separate release for each individual to whom FERPA-protected information is to be released. The Academic Record Consent Form is the central, blanket form that must be used to waive FERPA restrictions globally in all instances and with all offices).
Please click here for more information on FERPA issues.